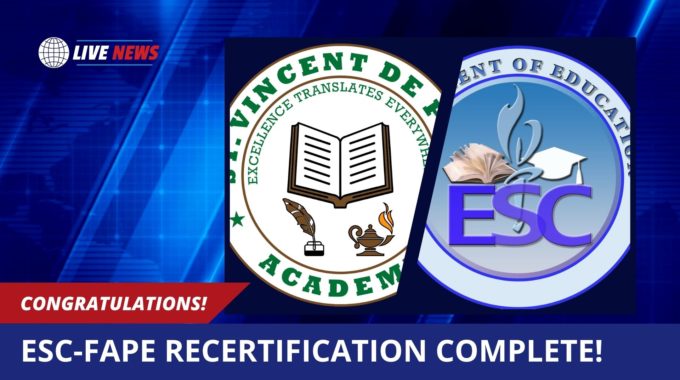 SVDPA Successfully Completes ESC-FAPE Recertification
SVDPA is proud to announce the successful completion of the ESC-FAPE Program recertification process. This ensures that incoming grade 7 students, as well as those JHS students from ESC certified schools, can avail a tuition voucher worth P13,000 per year for junior high school and P18,000 per year for senior high school.
The Education Service Contracting (ESC) scheme is a partnership program by the Department of Education (DepEd) with certified private schools aimed at decongesting overcrowded public schools. In order to be a part of this program, schools must complete a lengthy certification process and must recertify every 2 to 5 years.
Since May of 2022, SVDPA's academic and administrative processes have been under careful examination by PEAC officials and has proven to comply with DepEd requirements and K to 12 standards.
The process has been difficult and stressful, especially with challenges brought about by the Covid-19 pandemic, however our team was able to complete the process successfully. SVDPA would like to recognize the efforts of all admin and faculty that worked tirelessly to complete the strict requirements for recertification.
THANK YOU FACULTY & STAFF!
THANK YOU SVDPA PARENTS & STUDENTS FOR YOUR TRUST AND SUPPORT!